ESSENTIAL SIGNS FOR THE END OF TIMES?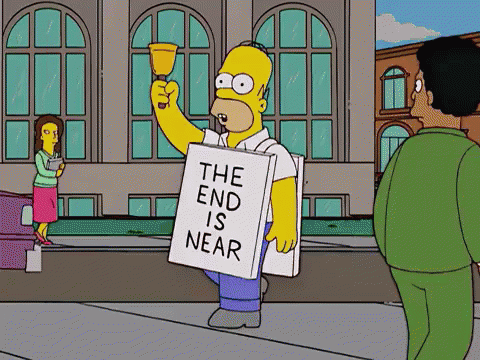 (We actually made those signs for him.  Believe It or Not?)

The world hasn't seen mass panic like this since Orson Well's "War of the Worlds" was broadcast on the radio, October 30th, 1938...but we ain't never scared & ain't nobody got time for that!  We all have bill$ to pay...ma$$ive, ma$$ive bill$...never ending...ine$capable...uh...anyways...so we all got work to do!  Let us help you cut✂️through all the noise (like MichaelMyers cutting through babysitters on All Hallow's Eve🔪🎃) and put your message(s) ON BLAST!




Tell your clients that you're #OpenForBusiness...or boss people around give advice, reminding folks to do things they were taught as a child...like please cough into your elbow crack like you're Dracula hiding his face with his cape , don't pick your nose in public, Jerry, don't forget to wash your hands like a trillion times a day, & 🎵don't stand so close to me🎵!


(Marshall Law says you have to be at least 10 paces before you draw revolvers on each other.

🔫

)

All joking aside...we're called DIEHARD☠️DESIGNS for a reason so there's no way this plannedemic is going to put us 6 Feet Under!  Never forget...they can bury a seed but it digs out of it's grave! 🌻  Let's refuse to go down without a fight to the death!  (WOLVERINES!)  We're in this battle with YOU! 👊
Here's a few ideas to help you get the word out:



- Window graphics and signs are an excellent way to communicate with passersby.

(Speedy Stop wanted everyone to know exactly what they had to offer inside their shoppe so we created & installed these Custom Window Graphics at the top & bottom of their picture window!  We offer installation services or we can ship to you so you can install...it's up to you!)

- Banners come in a variety of sizes to attract attention and share your message.

(As you can see...our Custom Full Color Vinyl Banners are ON FIRE! 🔥)

- Banner stands are portable and can be used throughout a building as needed.  Great idea for a background change to spice up your videos, live streams, and/or teleconferencing on Zoom/Skype/Go2Meeting/whatever.

(You'll be ⚡SHOCKED⚡ by how easy these are to set-up & breakdown. 😉)

- A-frame sidewalk signs grab the attention of visitors walking or driving past.


- Floor graphics can be used to remind visitors and employees to maintain ever-changing "social distancing"...which we all know is a joke...3 Feet...6 Feet...it's retarded.  Eff it...just direct them to where the Zombie Outbreak Emergency Axe is located.

(Our ultra-talented Master of Installations is seen here putting in the rad-looking Floor Graphics for Playmakers Barber Shop.)



(You can have beautiful, crisp results just like these when you order our Custom Full Color Floor Graphics!)



Regardless of your visual communication requirements, we can create the Custom Signage Solutions you need to share your important information.

If you don't have artwork, we can help you there, too, with our Custom Graphic Design & Artwork Services.
At Diehard Designs, we're working together even while we're apart.  We got your back!

<- PREVIOUS ARTICLE             NEXT ARTICLE ->


Want to DEFEND COMEDY, FREE SPEECH, & INDIVIDUAL LIBERTY ONLINE?  We need your help to PUSH BACK AGAINST BIG GUV, BIG TECH, BIG PHARMA, & #OPERATIONMOCKINGBIRD MEDIA GATEKEEPERS!  $UPPORT our work with ART, NEWS, COMEDY, REVIEWS, FREE SPEECH, & THE PRINTING PRESS by clicking HERE.  Don't forget that we can earn from qualifying purchases you make through our Amazon Affiliate links scattered like Easter eggs through out our articles.