Vectorize Your Art
We can turn your Raster File (Logo, Photo, Finished Drawing, or Sketch) into an infinitely scalable Vector File with paths & points that won't blur or distort when enlarged.
We can even make your lowest resolution files "Print-Ready" for Full Color Garment Printing, Screen Printing, CAD & Pro-Cuts, or any digital reproduction that requires high resolution & quality.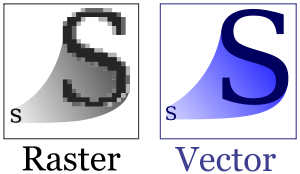 Simply fill out the form below and submit your image.  The price will depend on the level of detail required & the timeframe given for completion.  Simple Vectorization Packages start at $15.00 & go up, depending on difficulty.  Complicated Vectorization Packages are Quoted Upon Request.  After we review your image, we will then get in touch with you and provide a quote & PayLink.  Once payment is confirmed, we begin work on your project(s).  When your project is complete, we will send you a Digital Download of your Vectorization Package.  CD's ($5) & DVD's ($7) are also available for hard copy archiving upon request.