WE INTERRUPT THIS PROGRAM TO BRING YOU A SPECIAL REPORT...
THE EMPEROR APE HAS 🆕 CLOTHES!
The 👑King of the Jungle🐵 who recently arrived on your Home Theater System via DVD, BluRay, & Digital HD...has crash landed at Diehard☠️Designs!
Set in 1973, this new take on the legendary monster sees an elite cartography expedition, escorted by U.S. troops🚁, head out to be the first-to-ever chart an extremely remote🌴locale in the South🌊Pacific...ominously nicknamed SKULL💀ISLAND.  Unfortunately for the crew, by the time they come realize that they are NOT there to draw maps & snap photos...it's simply too late to escape.  The unbelievably enormous prehistoric gargantuas they encounter have not only never before been seen by living men...but could very well may be the last thing these men (& woman) ever see! 😱

We have 4 🆕&🆒 Officially Licensed KONG: SKULL ISLAND Designs that you will ❤️!

They come in Adult 👕-Shirt, Adult Tank🎽Top, Adult Long Sleeves, Youth 👕-Shirt, & Juniors 👚-Shirt for you ladies who 👍 a tighter fit & shorter cap sleeves.

Click HERE to check them out!
Wonder Which Woman is landing at DIEHARD☠️DESIGNS soon?
Who could it be?
CAPTURE THE CRYPTOZOOLOGICAL DISCOVERY OF THE CENTURY!
This just in...The Beast from the Jungle, known worldwide as KONGO KONG, has been spotted lurking around Diehard☠️Designs!
We have confirmation from authorities that our Featured Artist, Sei Ozawa, & our Art Director, Diehard Dustin Lee, collaborated to come up with an image that truly depicts the horror of being hunted by The Gargantuan Goliath, as described by the few surviving witnesses.  One of those witnesses, Diehard Designs' very own Print Master+, David Lee, was fishing when he caught a rare glimpse of the cryptid creature.  David was quoted saying "It was like something from an episode of Gilligan's Island!  Co-owner, Vella, was crunching numbers when she spotted him through a window..."It was like he was straight out of the movie Jumanji!"
Now you can help capture "The Monsta" by grabbing our Diehard Designs Exclusive KONGO KONG "The Beast from the Jungle" Apparel in 20 different color combinations!
Click HERE to order NOW!

UPDATE: The Beast from the Jungle has been spotted on @ImpactWrestling!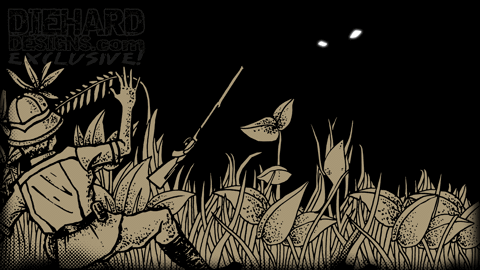 !!!5 YEARS OF DIEHARD DESIGNS!!!
Diehard Designs has been officially rockin' the world since 2011!  What!?!  Yup!  And it's all because of YOU!  To thank y'all for giving us a chance to earn your business, we teamed with our Featured Artist, cartoonist Sei Ozawa, to come up with a creepy-cool piece of wearable artwork just for YOU!  And it's definitely ULTRA-SICK!  (Just how you like it!)
We've got our stock Tee & Hoodie option, as well as an American Apparel Tee option!
Click HERE to get yours now!
MAG-NEAT-O!
Custom Shaped Magnets are magically magnificent!  We offer: Laser Etched Die-Cut Birch, Full Color Die-Cut Acrylic, & Full Color Die-Cut Wood Magnets
Click HERE to Request A 🆓Quote!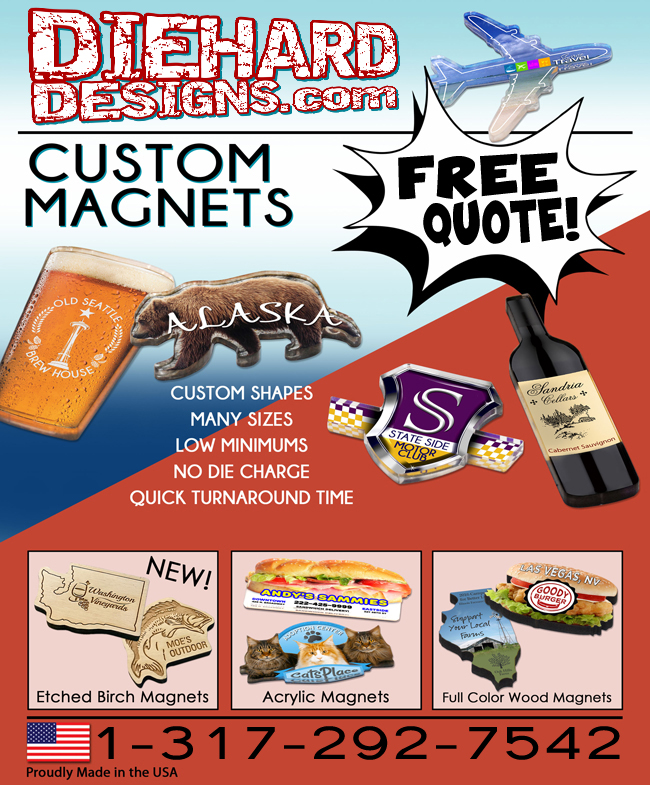 🎶

SIGN, SIGN, EVERYWHERE A SIGN!  

Get your FREE quote online while there's still time!

🎶

We have space available for you through the rest of June, July, & August but act fast!

Click here to Request A Quote:
http://www.dieharddesigns.com/signs/request-a-quote

Check out our BRAND NEW PROMOTIONAL VIDEO:
WE FOUND HOMELESS JIMMY!
Click HERE to order NOW!
NEW OFFICIALLY LICENSED HOME GOODS
100's of Brand New Officially Licensed Home Goods are available now!  You'll find Premium Full Color All-Over Printed Fleece Blankets, Woven Throws, Pillow Cases, Pillow Shams, Body Pillows, Throw Pillows, Bandanas, Tote Bags, Accessory Pouches, & Beach Towels.  Click HERE to shop now.
ARTISTS ALWAYS WANTED!
   We are looking for talented artists who want to make money from their unique artwork.  If you are the creative-type who has designed something that you think could work or should be turned into wearables and/or wall art...then click HERE to learn more about this exciting opportunity.