REMEMBERING GYPSY JOE - 

December 2, 1933 – June 15, 2016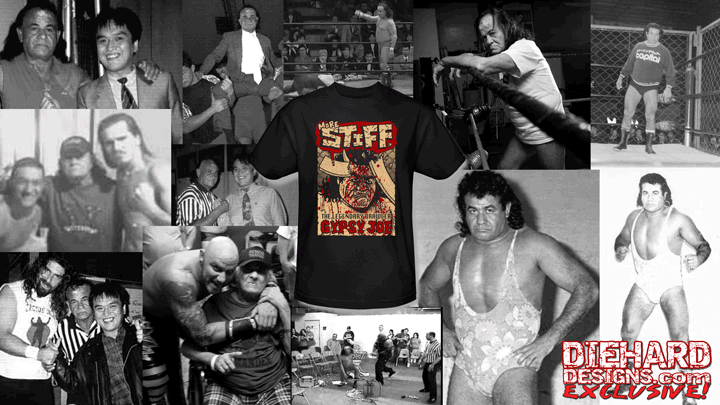 With heavy hearts we announce that Gilberto Melendez, known professionally as "Gypsy Joe," has passed away at the age of 82.  Gypsy Joe, the legendary brawler, is honored in this DIEHARDDESIGNS.COM EXCLUSIVE featuring a unique, Japanese Wrestling-style artwork collaboration with one of our Featured Artists, cartoonist Sei Ozawa.  Available in 5 T-Shirt Color & a Black Hoodie.  Click HERE to order.  A portion of the subtotal of each piece sold will be remitted to Mr. Melendez's family.
!!!*NEW* SHOCKSUMONE™ SHOCKWAVEWEAR™!!!
Get your very own *Brand New* SHOCKSUMONE - SHOCKED 2 DEATH Apparel designed by Mr. 8 Legz Creations HERE.
  Get your SHOCKWAVEWEAR™ HERE.  Every order helps support this Independent Recording Artist fund his operation.  So don't sleep on America's Most Slept On...get yours & rep that hot ish!
JOHN WAYNE MURDOCH "THE DEEP SOUTH DESTROYER" APPAREL w/ EXCLUSIVE MULTI-COLOR VARIANT - AVAILABLE NOW!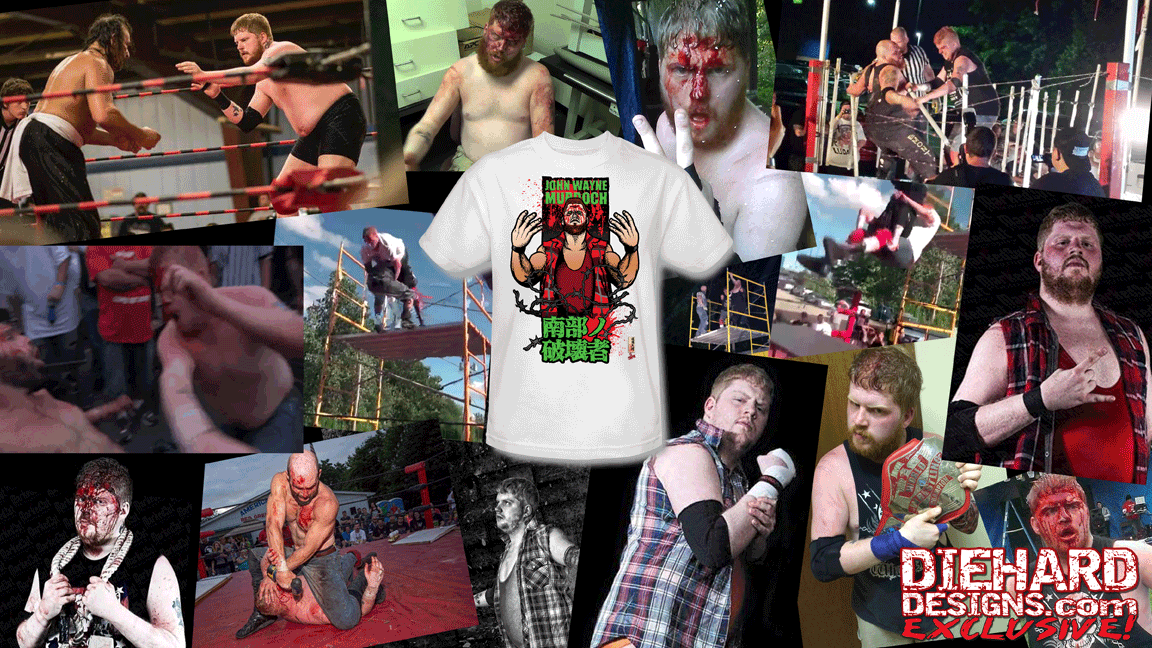 "The Deep South Destroyer" has arrived at Diehard Designs!  If you don't know his name...you soon will.  He's John Wayne Murdoch and he has the grit to go to toe to toe with any foe, anywhere, under any stipulations.   We are proud to announce the new Apparel line featuring "The Death Match Destroyer" artwork by one of our top Featured Artists, Sei Ozawa!  In welcoming this tough up and comer, we have created a DIEHARDDESIGNS.COM EXCLUSIVE Multi-Color Variant.  Choose from the Original 2 Color Artwork or our EXCLUSIVE Full Color Artwork.  28 different color combinations total!  Click HERE to order.  A portion of the subtotal of each piece sold will be remitted to Mr. Murdoch himself.
NEW OFFICIALLY LICENSED HOME GOODS
100's of Brand New Officially Licensed Home Goods are available now!  You'll find Premium Full Color All-Over Printed Fleece Blankets, Woven Throws, Duvet Covers, Pillow Cases, Pillow Shams, Body Pillows, Throw Pillows, Bandanas, Tote Bags, Accessory Pouches, Beach Towels, & Shower Curtains.  Click HERE to shop now.
ARTISTS WANTED!
   We are looking for talented artists who want to make money from their unique artwork.  If you are the creative-type who has designed something that you think could work or should be turned into wearables and/or wall art...then click HERE to learn more about this exciting opportunity. 
@DIEHARDDESIGNS NOW ON EXCHANGEAGRAM
Follow us on that ol' Vince Vaughn start-up.  It's super easy.  Check us out "on-the-line" over at Instagram or ExchangeAGram, or whatever, by searching @dieharddesigns & #dieharddesigns...or by clicking HERE.